<< Back to Calendar
WMPMI - IN-PERSON/VIRTUAL DINNERTIME MEETING - November 8, 2021 - Veterans and active military attend for free!
WMPMI's monthly chapter meeting is a two-PDU event featuring two sessions. 
If you are active military or a veteran, please use the code VETERAN2021 when registering. 
Project Planning & Management:


Applying military strategy & tactics to everyday projects
The WMPMI has always honored and heard from veterans during the month of November. Again, this year is no exception.
Tonight's speaker will draw upon his experiences in the military and discuss his transition to civilian life and work world using project management techniques.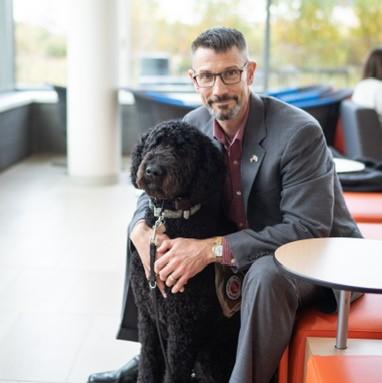 About the Speaker: Williamson (Billy) Wallace, J.D.
Billy is a licensed attorney in the state of Michigan. He earned his Juris Doctor, cum laude, from Thomas M. Cooley Law School and his Bachelor of Science in Criminal Justice from the University of North Carolina at Charlotte. He has served as a federal executive in the Department of Homeland Security's Transportation Security Administration, where his positions included Assistant Federal Security Director, Human Resources Specialist, and Manager. He was a licensed law enforcement officer in Michigan and North Carolina, and is a Gulf War combat veteran, having served 8 years in the United States Army and North Carolina Army National Guard.
In his current role as the Director of Criminal Justice Training, Billy directs Grand Valley State University's Police Academy and is responsible for developing, coordinating, and implementing in-service law enforcement training programs. He has taught in GVSU's School of Criminal Justice since 2003. His classes include Justice and Society, Criminal Law, Police Process, Terrorism, and Criminal Justice Leadership. Additionally, Billy serves as an Inclusion Advocate, Affirmative Action & EEO Investigator, and Restorative Practices COP Member at GVSU.
Billy has testified before the Michigan House and Senate Appropriations Committees on law enforcement training initiatives, served on a statewide ethics committee for the Michigan Commission of Law Enforcement Standards, facilitated several law enforcement strategic planning sessions, and facilitated a Multi-Jurisdictional Homeland Security Emergency Exercise.
Billy has been an invited speaker on the topics of Implicit Bias & Decision Making, Mental Health & Wellbeing, Professionalism in the Workplace, Employee Relations, Instructor Development, and Terrorism Awareness for First Responders.
In-Person Agenda:
4:45 PM - Doors open
5:00-6:00 PM - Session 1 Presentation
6:00-7:00 PM - Networking and Dinner Buffet
7:00-8:00 PM - Session 2 Presentation
PDU: 2.0 (0.5 Leadership / 0.5 Strategic Management Business / 1.0 Technical)
We will also be offering a virtual option for this event at $17/person.
Please enter this code when registering: NOV21DINNER.
The Zoom information will be in your registration confirmation email. 

It is no longer possible to register for this event