<< Back to Calendar
WMPMI - VIRTUAL BREAKFAST TIME MEETING - November 20, 2020
WMPMI's monthly breakfast time meeting is a one-PDU event featuring a speaker that presents on a topic from the PMI Talent Triangle. WMPMI has always honored and heard from veterans during the month of November. This year is no exception. 
Managing Project Managers: 


Using military lessons and teachings in project management

Many of the largest projects undertaken were done by the military (think D-Day). Military lessons can guide project managers in their day to day lives, even if they are not invading another country.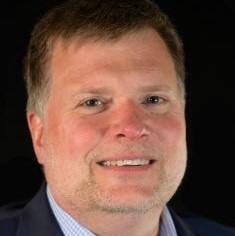 About the Speaker: Bob Clarkson
Bob is the Director of Operations at DLN Integrated Systems in Grand Rapids, Michigan, where he oversees project management, engineering, service management, robotics, and internal operations for this independent material handling systems integration company. DLN creates turn key automated solutions for distribution centers and production facilities.
Prior to DLN, Clarkson worked for KPMG as a Global Project Manager helping design, build, deliver and support KPMG's client facing software solutions. Bob also spent over a decade in the higher education sector holding positions of Associate Dean, Associate Professor, Vice President, and Lacrosse Coach. While at Davenport University, he designed and taught several project management technology courses, as well as consulted in the project management and risk area for a number of firms.
Before his time in higher education, Bob held leadership positions at several companies including a 12 year career in the US Air Force where he was an Acquisition Program Manager on the $1.9 billion ICBM Guidance Replacement Program (GRP), an ICBM Missile Launch Officer and served several assignments in the intelligence field. Clarkson's first exposure to large scale project work was as a software engineer for Orthstar Enterprises working on the LASTE computer on the Fairchild A-10 and the joint CFMI / GE Aviation CFM-56 engine.
Bob holds a Bachelor of CIS, an MBA and a Doctorate in Education. Clarkson is a Project Management Professional (PMP) through the Project Management Institute (PMI) and a Certified Acquisition Professional in Program Management through the Defense Acquisition University (DOD).
Agenda:
The program begins at 8:00 AM and ends promptly at 9:00 AM.
The Webex link will be provided prior to the event. 
PDU: 1.0 (0.5 Leadership / 0.5 Strategic Business Management)
It is no longer possible to register for this event