<< Back to Calendar
WMPMI - VIRTUAL BREAKFAST TIME MEETING - August 21, 2020
WMPMI's monthly breakfast time meeting is a one-PDU event featuring a speaker that presents on a topic from the PMI Talent Triangle. 
PMO Evolution in an Enterprise Agile (SAFe) Environment
Priority Health's EPMO leadership will share an overview of their departement and team evolution as it applies leveraging SAFe, the scaled agile framework for enterprises. Many observations and learnings to share along the way for those who may be considering a move away from traditional waterfall approaches and/or would like to know a bit more about PMO engagement and delivery under an enterprise agile framework.
About the speakers: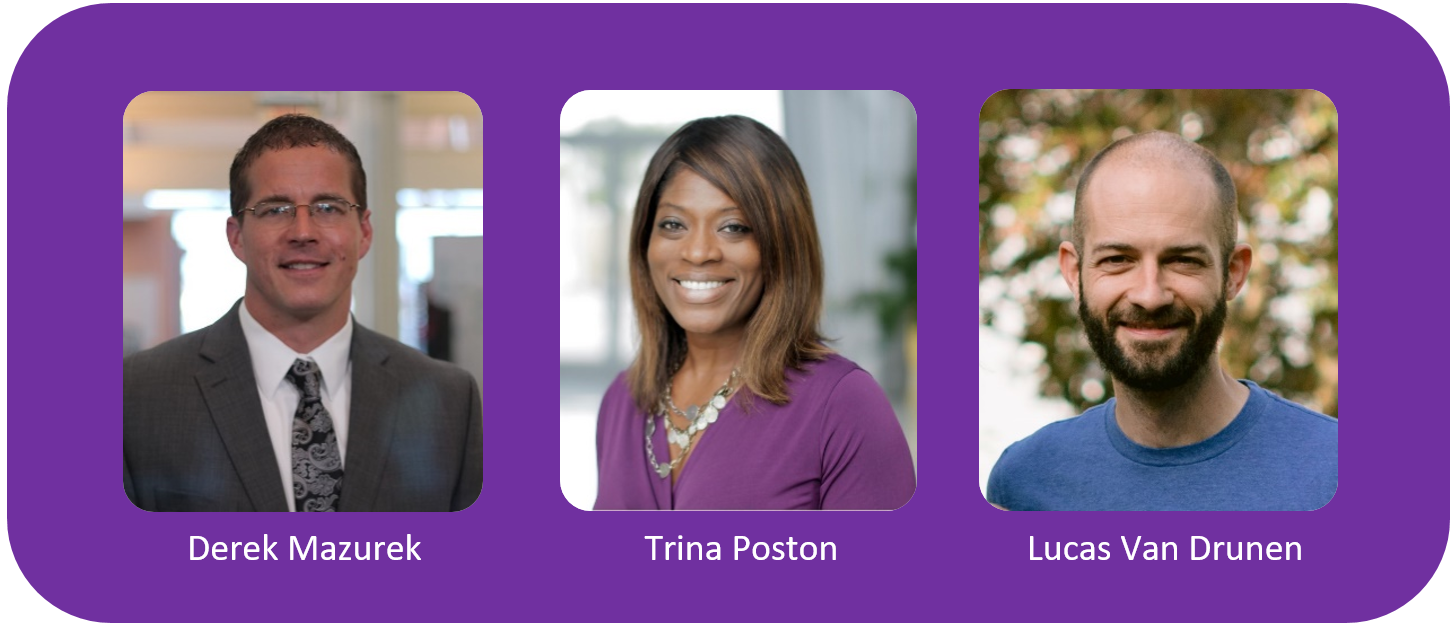 Derek Mazurek is currently the EPMO Director of Priority Health, Spectrum Health's insurance entity. During his time with Spectrum Health and Priority Health, Derek has provided program and people leadership for their respective EPMO departments and numerous largescale change initiatives, including the integration of new hospitals and practices into the System as well as a multi-year replacement of the System's core electronic medical record (EMR) system. Derek's background includes several years in management consulting where he served numerous industries with a focus on ERP and EDI implementations.
Trina Poston, MSA, PMP, SPC is a leadership consultant, adjunct facilitator, speaker, strategic portfolio manager and experienced Lean practitioner. An avid corporate and civic leader, Trina believes in humble partnership - meeting clients where they are in their improvement journey. The value she provides clients she serves is in project leadership and maximizing internal efficiencies to deliver exceptional experiences.
Leveraging a background in strategic development and program execution across multiple industries, Trina brings a multimodal style from a toolkit of Design Thinking, Lean and scalable Project Management principles. This unique approach combined with a focus on training and development and civic engagement have led to Trina being recognized by the State of Michigan Office of Good Government with the Symbol of Excellence.
Trina received her Bachelor of Science in Communications with a minor in Sociology from Grand Valley State University and Master's Degrees from Central Michigan University in Health Services Administration, Human Resources and Information Resource Management. She also holds professional certifications as a Project Management Professional (PMP), SAFe Program Consultant (SPC5), Professional of Healthcare Quality (CPHQ) and is currently completing her Personal and Executive Coaching Certification.
In her spare time, she enjoys weekend road trips, stand-up comedy and attending concerts although most weekends she can be found supporting her children from the stands of a sporting event.
Lucas Van Drunen is on a quest to unlock the ability of IT teams to deliver relentless business value. As a portfolio manager, Lucas uses Lean-Agile practices and a bias for action to guide teams on journeys of transformation. Prior to enterprise IT, Lucas was a management consultant, serving executive leadership teams in communications and technology industries. Lucas has a bachelor's degree from Calvin University in Business and Mathematics and a Master of Science degree from Columbia University in Industrial Engineering.
Agenda:
The program begins at 8:00 AM ET 

and ends promptly at 9:00 AM.

The WebEx link is included within registration email. 
PDU: 1.0 (0.5 Leadership / 0.5 Strategic Business Management)
It is no longer possible to register for this event