WMPMI - IN-PERSON/VIRTUAL DINNERTIME MEETING - November 13, 2023
WMPMI's monthly chapter meeting is a two-PDU event featuring two presentation sessions linked by networking time and dinner.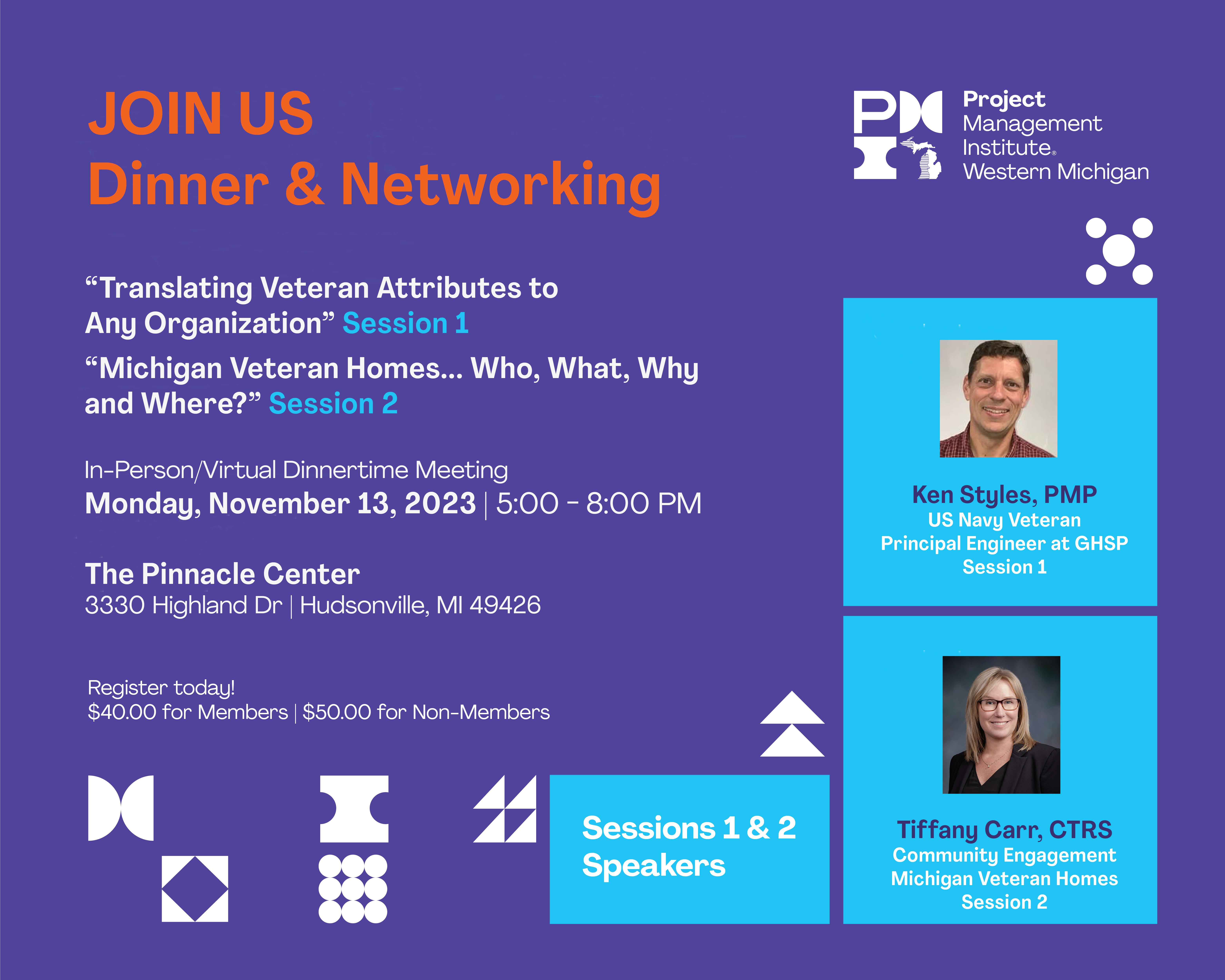 Session 1:
Translating Veteran Attributes to Any Organization
Session 2:

 
Michigan Veteran Homes… Who, What, Why and Where?  
Event Agenda:
Doors open at 4:45 PM ET

The program begins at 5:00 PM ET and ends promptly at 8:00 PM.

5:10-6:10 PM - Session 1 Presentation

6:20-6:50 - Networking / Dinner

6:50-7:00 - Announcements

7:00-8:00 - Session 2 Presentation

The Zoom link will be provided prior to the event via email.
Location: The Pinnacle Center - 3330 Highland Dr, Hudsonville, Michigan 49426
PDU: 2.0 (1.0 Ways of Working / 0.5 Business Acumen / 0.5 Power Skills)
If you are a Veteran or Active Service Member, use PROMO Code: 2023Military (Case senstitive) to attend the event at no cost.  
Session 1 
Translating Veteran Attributes to any Organization
In this session, Ken will identify veteran employee attributes that add value to any organization. We will explore project management and leadership best practices found in the armed forces which can be leveraged in civilian organizations.  In addition, Ken will provide specific examples of where industry can employ the before mentioned best practices into their own organizations.
About the Speaker: Ken Styles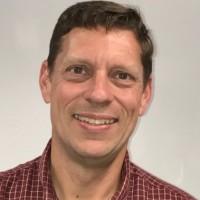 Ken Styles is a US Navy veteran, Principal Quality Assurance Engineer, and Program Manager at GHSP. Ken is a Project Management Professional (PMP), Agile Certified Practitioner (PMI-ACP), Lean Six Sigma Black Belt, ASPICE Provisional Assessor, Capability Maturity Model Integration (CMMI) Associate and Candidate Lead Appraiser that has over 18 years of experience managing Department of Defense (DoD) and commercial programs.
Session 2
Michigan Veteran Homes… Who, What, Why and Where? 
Michigan Veteran Homes… Who, What, Why and Where?  As a West Michigander for 25 years and spending 23 years working at the Home in Grand Rapids, I still meet on average 3 people a week who have no idea what I am talking about when I say I work for the Michigan Veteran Homes. I plan to equip you with knowledge of the best kept secret in West Michigan, called the Michigan Veteran Homes at Grand Rapids. I will provide you with an overview of who we are, who we serve, the benefits that veterans and their dependents have earn and how you could help support the mission in caring for our nation's heroes living in at our Grand Rapids home. 
About the Speaker:Tiffany Carr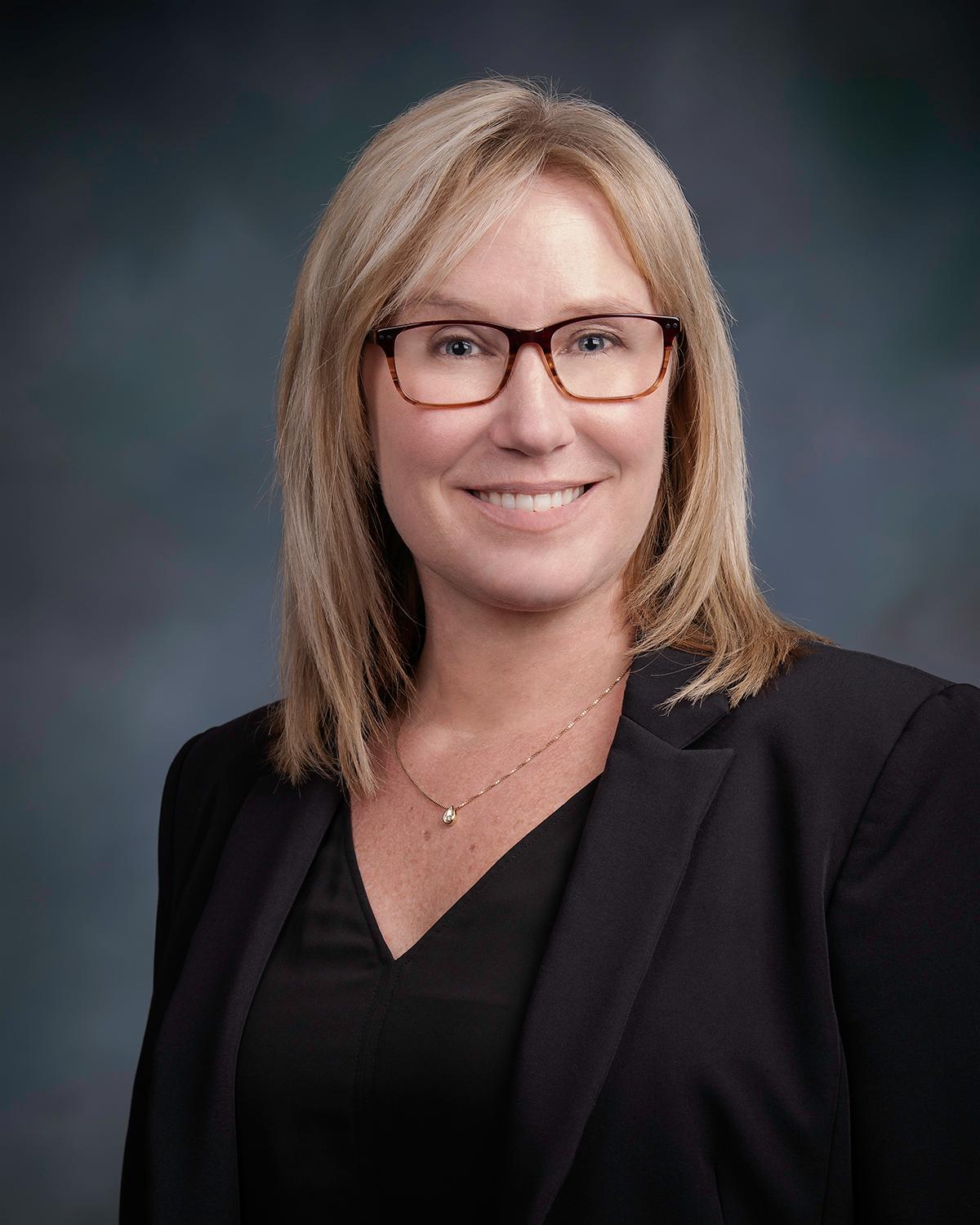 Tiffany Carr is a Certified Therapeutic Recreation Therapist who found her passion for serving Veterans in the most challenging season of life. She has served at the Michigan Veteran Homes in Grand Rapids for 21 years as the Activity Therapy Manager for 11 years and then the Director of Community Relations for 9 years. In 2021, she took the opportunity to work for the Michigan Veteran Homes to enhance the engagement opportunities with the community through asking they share their time, talents, and treasures with all three Homes in the State of Michigan.  She is a sister of a 23 year, now retired United States Force Airman, has a husband, 3 kids, and recently became a foster-fail puppy parent to Ruby. They live in Rockford and is honored to speak on behalf of our nations heroes who call MVH their Home.
We are also offering a virtual option for this event for members and those not yet members.

Member code for virtual - 2023DinnerMember
Non-Member code for virtual - 2023DinnerNonMember

The Zoom information will be in your registration confirmation email. 
It is no longer possible to register for this event