<< Back to Calendar
WMPMI - VIRTUAL LUNCHTIME MEETING - April 21, 2023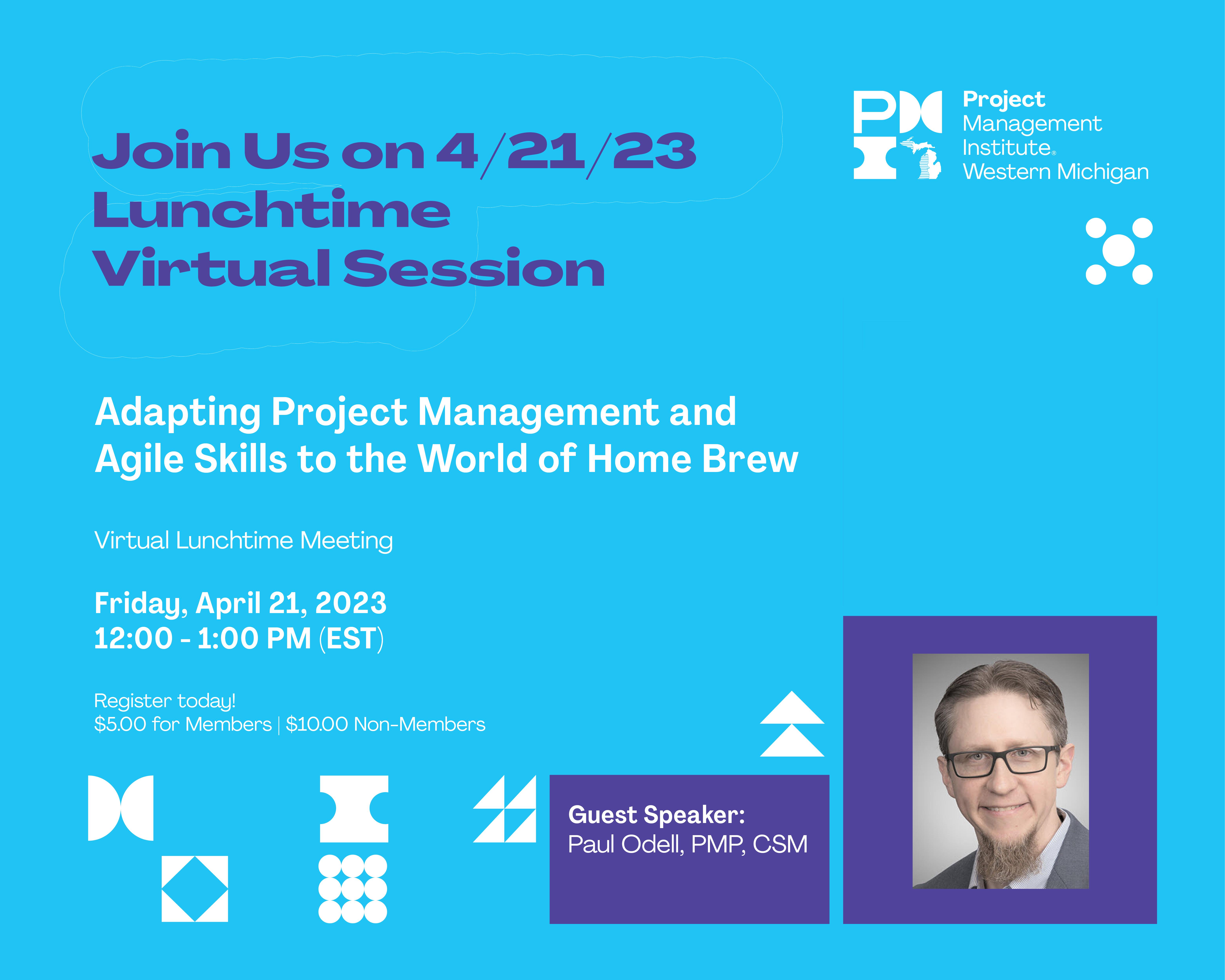 WMPMI's lunchtime meeting is a one-PDU event on a topic from the PMI Talent Triangle. 

Adapting Project Management and Agile to the World of Home Brew
This presentation will detail how project management and agile skills can be leveraged to learn home brewing, set up a home brewery, and then go on to master the science of beer brewing. In addition, the session will cover the vital role project management played in the history and evolution of beer making.
Learning outcomes will include:
1. Building a home brewing business case:
Environmental considerations: the laws and regulations surrounding home brewing.
Project inputs: understanding brewing ingredients and projected outcomes.
Determine your cost targets for setting up a home brewery.
Program construction: how to set up your various brewing projects into an overall program that will provide the needed structure and feedback loops for success.
2. The importance of ignoring sunk costs in projects and in brewing.
How to value time correctly. Your labor is not free!
3. How to pivot quickly and effectively by utilizing change management methods in brewing.
4. How to use Agile methodologies to foster brewing innovation.
5. How to use metrics and KPIs to measure your brewing results.
   About the speaker: Paul Odell, PMP, CSM, SAFe, Agilist
Paul Odell has been an IT professional for 24 years in the consumer electronics, technology, and insurance industries with a focus on project and program management. Mr. Odell has been a Project Management Professional (PMP)® certification holder since 2011, and also is a certified Professional Scrum Master and a certified SAFe Agilist.
Paul Odell has been an avid homebrewer for 25 years. President of the NJHOPZ homebrew club. BJCP (Beer Judge Certification Program) Certified Judge. Brewed collaboratively with Twin Elephant and Four City breweries in NJ. Worked with Craft Beer and Brewing Magazine to produce video instructional classes on how to brew beer and successfully navigate homebrew contests.
Agenda:
Zoom Doors open at 11:45 AM.

12:00 Noon-1:00 PM - Presentation
PDU: 1.0 (Ways of Working)
Register for this event