WMPMI - IN-PERSON/VIRTUAL DINNERTIME MEETING - February 13, 2023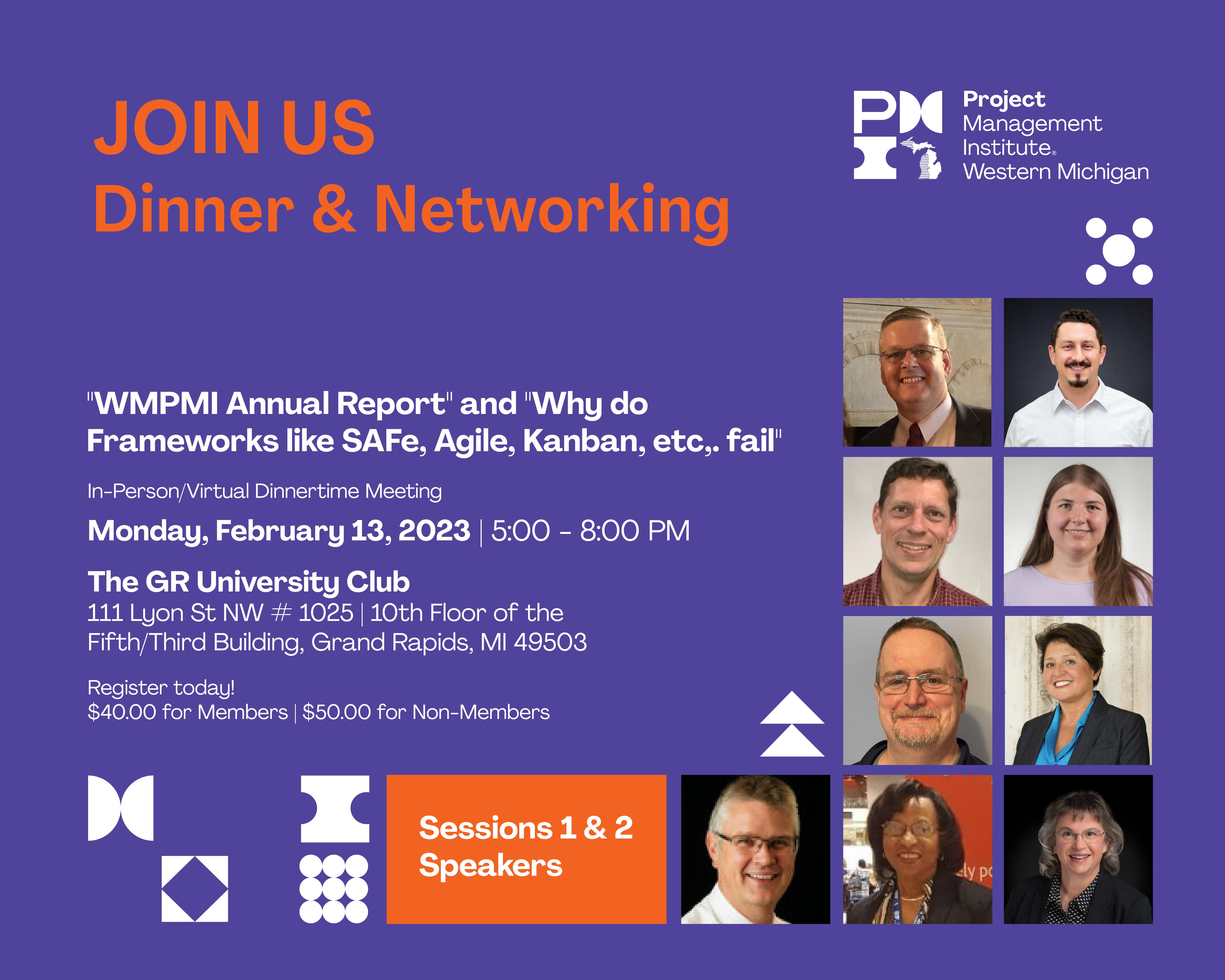 WMPMI's monthly chapter meeting is a two-PDU event featuring two presentation sessions linked by networking time and dinner.   
"WMPMI Annual Report" and "Why do Frameworks like SAFe, Agile, Kanban, etc,. fail"
Event Agenda:
Doors open at 4:45 PM ET

The program begins at 5:00 PM ET and ends promptly at 8:00 PM.

5:10-6:10 PM - Session 1 Presentation

6:20-6:50 - Networking / Dinner

6:50-7:00 - Announcements

7:00-8:00 - Session 2 Presentation

8:00 PM  - a Membership Raffle for Attendees will take place to close out the evening

The Zoom link will be provided prior to the event via email.
Location: The GR University Club - 111 Lyon St NW # 1025 | 10th Floor of the Fifth/Third Building, Grand Rapids, MI 49503 
PDU: 2.0 (1.0 Ways of Working / 1.0 Business Acumen)
Session 1 
WMPMI Annual Report to the Membership
The WMPMI board to present the Annual Board Report 2022 to the membership as required by PMI. The WMPMI Board Members will share progress from 2022 and the vision for the chapter members and community engagement in 2023.
About the Speakers: 
Top row: Andrew Gill, James Szymanowski, Matt Mills, Natalie Lowell.
Bottom row: Ken Styles, Mariel Le, Patricia Brown-May, Rosemary Mills. 
Session 2 
Why do Frameworks like SAFe, Agile, Kanban, etc., fail?
In this session you will learn:
How to connect the C-Level leaders to any execution Framework the company is/might be using

to make these Frameworks successful.
As an example, 80% of SAFe implementations fail not because of the Framework but because of the disconnect between top layer and the execution layer.

How to improve not only the communication but also the understanding.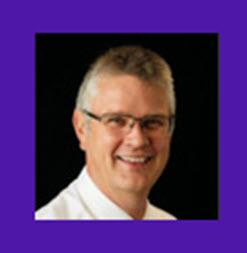 About the Speaker: Jay J. Keller
Jay J. Keller is the Global Vice President, Our Daily Bread Ministries. He is a leader with a "can do" attitude, innovative, flexible, focused and results oriented. 30+-year career in project management, system engineering, software development, information technology initiatives and system integration successfully managing several large projects. Strong consultative and collaborative skills coupled with demonstrated ability to build key strategic partnerships within the organization and with outside business partners. Proven enterprise-wide strategic and analytical skills in identifying and completing organizational initiatives critical to company's success. Strong negotiator and relationship builder.
We are also offering a virtual option for this event for members and those not yet members.

Member code for virtual - 2023DinnerMember
Non-Member code for virtual - 2023DinnerNonMember

The Zoom information will be in your registration confirmation email. 
It is no longer possible to register for this event