WMPMI - VIRTUAL BREAKFAST TIME MEETING
WMPMI's monthly virtual breakfast time meeting is a one-PDU event featuring you and other attendees discussing topics from the PMI Talent Triangle. Please contact vppd@wmpmi.org with your questions. 
WMPMI Breakfast Meeting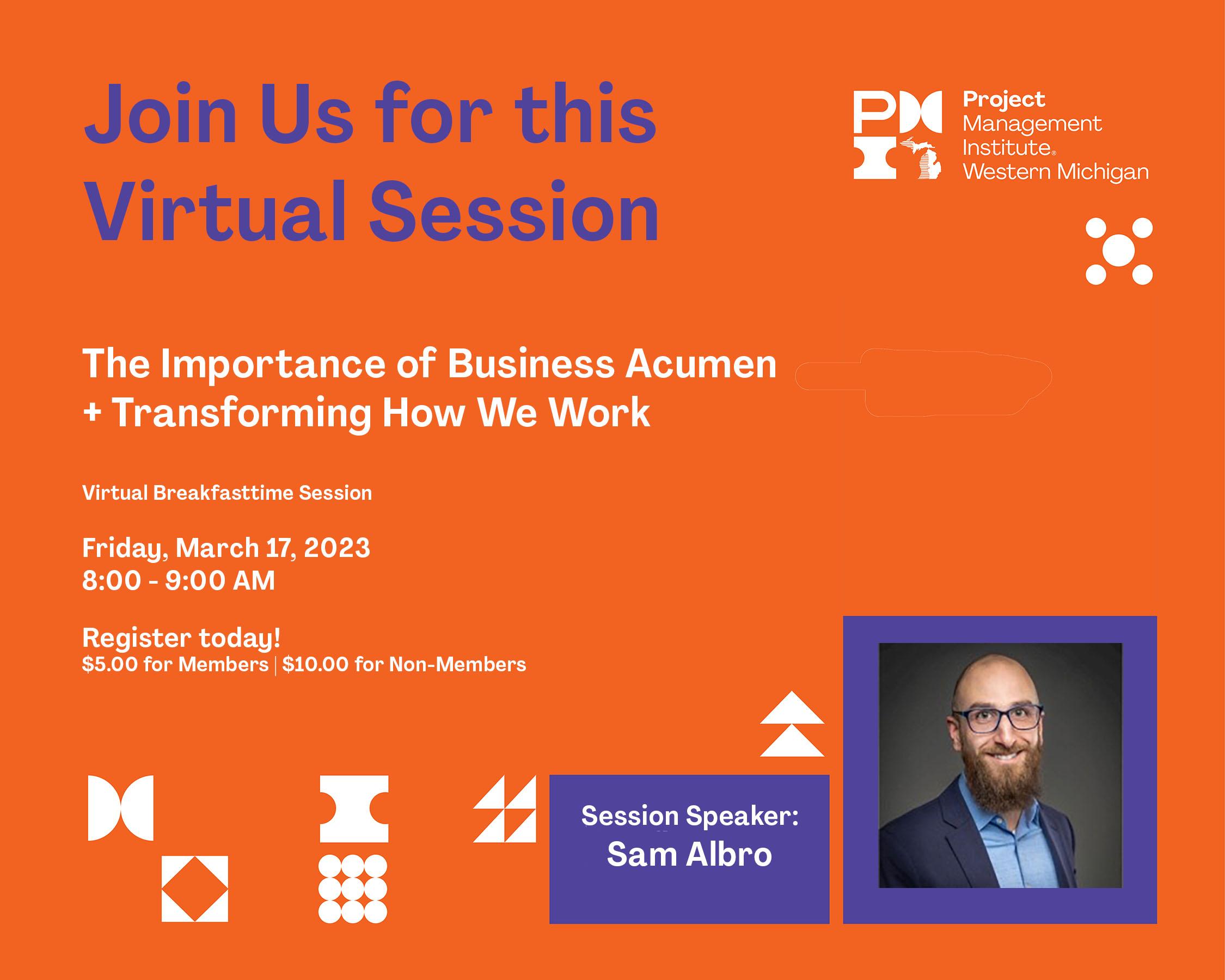 Agenda:
Grab your morning beverage of choice and log in prior to the start at

8:00 AM.

The selection of topics begins at 8:00 AM and discussion ends promptly at 9:00 AM.
The Zoom link will be provided prior to the event. 
PDU: 1.0  (Business Acumen: 1.0 PDU.)
Session Title:

The Importance of Business Acumen + Transforming How We Work
Description: Join us for a candid conversation around business acumen and exploring transformational ways of working. 
About the speaker: Sam Albro
Sam is an experienced leader with a passion for innovation, healthcare, and improving outcomes through advanced data analytics and process improvement. A former U.S. Army Combat Medic with 15+ years of combined clinical, operations and analytics experience; Sam has consistently led change and improvement initiatives using project management and process improvement methodologies. Currently, Sam is an Operations Leader at Devoted Health - one of the fastest growing Medicare Advantage startups in the country. On the personal side, Sam loves traveling the world with his family, enjoys watching/playing soccer, investing in real estate, and is an avid coastal fisherman. Sam resides in Clarksville, TN with his wife, Leah, and their two children, Ayla (10) and Bruce (9).
It is no longer possible to register for this event